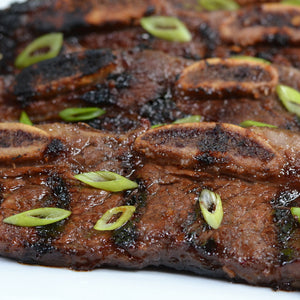 Bone in short ribs slice thin and marinated in our own Kalbi marinade. 
Great on the barbecue, 6 minutes a side, or under the broiler. Keep an eye on it while cooking so you don't burn them.
Kalbi marinade is made of fresh ginger, garlic,green onions, soy sauce, vegetable oil, sesame oil, red pepper flakes, black pepper and sugar. Sold raw and by the pound.